Michele Capalbo


Hometown: New York, NY
Web site: http://michelecapalbo.com
View World Music Days Events for this Artist

Biography:
Excelling as an interpreter of Verdi and Verismo roles, in the 2008-2009 season soprano Michele Capalbo performs Leonora in IL TROVATORE with Manitoba Opera, Lady Macbeth with Opéra De Montréal conducted by Stephen Lord, Beethoven's Ninth Symphony with National Chorale, the Verdi REQUIEM with Eugene Symphony, and the title role in AIDA with Opéra de Nice. Highlights of the 2007-2008 season include her role debut as Leonora in IL TROVATORE in Madrid, the title role in TOSCA for her debuts with both Seattle Opera and Calgary Opera, and Elisabetta in DON CARLOS with the Grand Théâtre de Genève. Future engagements include debuts with San Francisco and Canadian Opera Companies.

Ms. Capalbo's other recent operatic engagements include the title role of AIDA and Cio-Cio-San in MADAMA BUTTERFLY with Houston Grand Opera, as well as Amelia in UN BALLO IN MASCHERA with L'Opéra de Québec. Recent concert performances include the Verdi REQUIEM with Nashville Symphony, Ginevra in Giordano's LA CENA DELLE BEFFE at Lincoln Center, and Poulenc's STABAT MATER with the Florence Maggio Musicale under the direction of Marcello Viotti.

Recognized by Opera News as "a world-class Aida, passionate, subtle and vocally satisfying," Michele Capalbo burst onto the European stage as a last minute replacement for Le Festival de Musique de Strasbourg. Subsequent successes in the title role of AIDA followed at Palacio de Bellas Artes, Mexico, and Théâtre du Capitole de Toulouse, France.

Debuting in the role of Tosca with New York City Opera, The New York Sun wrote that her performance revealed a "rich and polished lyric voice full of color and fluidity." Ms. Capalbo has also triumphed as Leonora in LA FORZA DEL DESTINO with the Festival delle Terre Verdiane in 2004, after which she was invited to sing in the Franco Zeffirelli production of AIDA at the Teatro Sociale in Mantova.

No stranger to contemporary music, Ms. Capalbo has also sung Britten's Female Chorus in THE RAPE OF LUCRETIA, the Governess in THE TURN OF THE SCREW, as well as de Falla's Salud in LA VIDA BREVE.


---

Michèle Capalbo fait ses débuts au Festival de Musique de Strasbourg dans Aïda et chante le même rôle au Palacio de Bellas Artes, Mexico, et au Théâtre du Capitole de Toulouse. Elle fait ses débuts américains dans Tosca au New York City Opera, chante Leonora / La forza del Destino au Festival delle Terre Verdiane en 2004, et Aïda au Teatro Sociale in Mantova.

En musique contemporaine, Michèle Capalbo chante Chœur Féminin / The Rape of Lucretia, Gouvernante / Tour d'écrou, ainsi que Salud / La vida breve.

D'autres récents engagements inclus le rôle titre d'Aïda et Cio-Cio-San / Madama Butterfly au Houston Grand Opera, ainsi qu'Amelia / Un ballo in Maschera à l'Opéra de Québec.

En concert, elle chante le Requiem de Verdi avec le Nashville Symphony, Ginevra / La cena delle beffe au Lincoln Center et Stabat Mater au Florence Maggio Musicale sous la direction de Marcello Viotti.

La saison 2007-2008 l'amène à faire ses débuts dans Leonora / Il Trovatore à Madrid, le rôle titre de Tosca au Seattle Opera et au Calgary Opera et Elisabetta / Don Carlos au Grand Théâtre de Genève.

Elle ouvre la saison 2008-09 avec Leonora / Il Trovatore au Manitoba Opera, chante Lady Macbeth à l'Opéra de Montréal, sous la direction de Stephen Lord, le rôle de soprano dans la Neuvième Symphonie de Beethoven avec le National Chorale, le Requiem de Verdi avec l'Eugene Symphony et le rôle titre d'Aïda à l'Opéra de Nice.

D'autres projets inclus des représentations au San Francisco Opera et au Canadian Opera Company.

Music, Video, Image and Lyric Samples:

Images: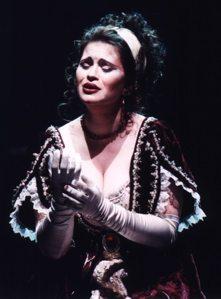 ~Michele Capalbo~